Opportunity Is Just Around the Corner
Law firms are regularly looking for associates to join their burgeoning practices. The thing is many of these roles are not always publicly posted; it then becomes a matter of who you know. Major, Lindsey & Africa's associate legal recruiters are often the first—and only—ones to know about law firm opportunities within their markets. And with offices in major cities across the United States, the United Kingdom, Europe and Asia, we have our finger on the pulse of the legal market.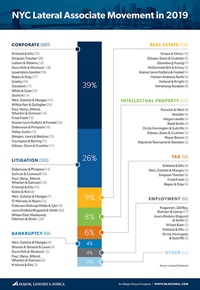 Check out the lateral associate moves that were made in New York City alone in 2019. Download the infographic here.

Could 2020 be your year to make a change?
You don't have to carve out your career path on your own. Major, Lindsey & Africa's legal recruiters are the career advisors you need to help you navigate your career path. You can benefit from their inside knowledge and start changing your life now.
Fill out the form below to start receiving career-enhancing insights from Major, Lindsey & Africa.