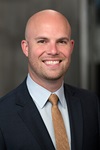 Sydney, Australia (September 11, 2017) — Major, Lindsey & Africa (MLA), the world's leading legal search firm, today announced that Ricardo Paredes has joined the firm in Sydney and will focus on recruiting associates throughout Australia and Asia Pacific.
Ricardo brings more than eight years of legal experience to his new role at Major, Lindsey & Africa, having joined from Ethos BeathChapman, where he led the Sydney-based legal recruitment team and specialized in helping associates and partners identify career opportunities with global, national and boutique law firm clients in Australia and Japan. Prior to this Ricardo was a legal recruiter with international recruitment company Michael Page, placing associates, special counsels and partners across top tier global and national law firms in Australia. He was named that company's highest billing legal recruiter in Australia in 2015.
"Ricardo has already built strong relationships with many elite law firms in Australia and Asia Pacific," said Brent Harris, MLA's executive director for APAC and EMEA. "His network and experience recruiting across different jurisdictions enables him to be a knowledgeable adviser to lawyers who seek to explore the best opportunities that are aligned with their career aspirations. He will be a tremendous asset to our team and our clients."
"I am absolutely delighted to join Major Lindsey & Africa in Sydney and look forward to working with the immensely talented and respected team that makes MLA the global leader in legal recruitment," said Ricardo.
From 2009 to 2013, Ricardo was a senior legal consultant at East West Consulting K.K. in Tokyo, Japan's largest executive search firm, where he built and headed the private practice legal recruitment discipline, placing associates, special counsels and partners across global US, UK/ Magic Circle and Japanese law firms.
Ricardo began his career in Lima, Peru, as a member of the Latin America proposal team with Nippon Koei, Japan's leading consulting firm specializing in technical and engineering services to developing countries.
Ricardo attended high school in Melbourne and Tokyo, and graduated from Flagler College in Florida with a B.A. He speaks Japanese and Spanish, as well as English.
About Major, Lindsey & Africa
Founded in 1982, Major, Lindsey & Africa is the largest and most experienced legal search firm in the world. With more than 25 offices worldwide, Major, Lindsey & Africa has earned recognition for its track record of successful general counsel, corporate counsel, partner, associate and law firm management placements. The firm also provides law firms and companies with highly specialized legal professionals on project, interim and temporary-to-permanent hire basis. Combining local market knowledge and a global recruiting network, Major, Lindsey & Africa recruiters are dedicated to understanding and meeting client and candidate needs while maintaining the highest degree of professionalism and confidentiality. The firm considers every search a diversity search and has been committed to diversity in the law since its inception. Major, Lindsey & Africa is an Allegis Group company, the global leader in talent solutions.
To learn more about Major, Lindsey & Africa, visit www.mlaglobal.com.