David Schwartz (mentor) – Betsy Sinn (mentee)
What are the benefits to working with a mentor?
Betsy: David has helped me think of creative solutions to some of the more complex recruiting issues I've faced over the past couple of years. With his background working on both candidate and client development, he is able to provide a unique perspective that has helped me to think outside the box and be more creative in solving recruiting problems. He has helped me to elevate my recruiting methods by showing me how to be more strategic about my recruiting efforts.
He forces me to not become complacent but rather encourages me to continue identifying and setting career goals that are challenging, yet achievable. Under David's guidance and mentorship, I have learned that setting goals that push me outside of my comfort zone is critical to achieving professional success.
What does being a mentor mean to you?
David: When I started at the company, there were many people who went out of their way to help me as I embarked on my new career. I see mentoring – both formally and informally – as a way to pay it forward.
What inspired you to seek out a mentor?
Betsy: I had recently switched from a management role to a recruiting position, and it was a no brainer for me to sign up for the mentorship program at MLA.
How are you hoping to help your mentee grow in their career?
David: The truth is that Betsy's successes – the ones she's achieved so far and the ones still to come – are entirely a credit to her. She is smart, hard-working, ambitious and disciplined, and it would be wholly unfair and untrue to say that I had anything to do with it.
In our mentor-mentee relationship, I really serve mostly as a sounding board, someone with whom she can bounce around ideas or brainstorm about goal-setting. I also encourage her to aim high and to go after what she wants. But Betsy sets the agenda and does the work necessary to elevate her career.
Please share a story of success that resulted from your work with your mentor.


Betsy: Recently, David brought in a search for a candidate-turned-client of his. Our team worked on the search, and I was lucky enough to place the winning candidate.
What have you learned from your mentee?
David: Betsy knows how to navigate company politics, and she does everything with a smile on her face and an excellent attitude. So I suppose what I've learned from her is that while you have to work hard to get what you want, you can do it while working collaboratively and positively as part of a larger team.
Jay Kim (mentor) – Andrew Teig (mentee)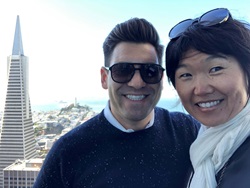 What are the benefits to working with a mentor?
Andrew: Working with a mentor has been extremely useful when joining a company and not knowing how to navigate your way through it. I met Jay when she moved to New York for a three-month stint, and I immediately knew that this rockstar was someone who I wanted as my mentor. Not only did I notice that she was so well-adored within the company but also her work ethic and drive were inspirational; I wanted to mimic her career in my own.
Jay and I meet whenever we're in each other's towns to discuss career objectives and paths to growth. We also role play for how to handle certain situations. When we are not in the same city, we speak on a monthly call to check in on projects and role play scenarios. Jay has been instrumental in my growth, and I was recently promoted as a result.
What does being a mentor mean to you?
Jay: Being a mentor means being a champion, guide, sounding board, trusted ally, creative advisor, brainstorming partner and accountability-upholder. Andrew's very motivated and focused, so it's easy to propel him to charge onward!
What inspired you to seek out a mentor?
Andrew: I was unsure of how to grow within the company and how to navigate my way through internal systems. I also wanted guidance as I eventually moved into a business development role. So, of course, who better than Jay Kim?!
How are you hoping to help your mentee grow in their career?
Jay: I'm hoping to help by thinking of ways to connect and network in creative ways, making introductions where I can, and helping him see all the different ways he is conducting business development.
I also try to stay encouraging and positive. This business can be discouraging and disappointing sometimes, but there's always a lesson to be learned. We've collaborated on one search together and we hope to do more, by way of client visits, networking events, facilitating connections, etc.
Please share a story of success that resulted from your work with your mentor.
Andrew: After moving into my current role, I shared my target list with Jay who let me know that she knew the general counsel of J. Crew. Immediately, Jay alerted me that she had a conversation with the general counsel of J. Crew who was not aware of our interim model. She then put me in touch with the GC, which resulted in two separate searches (and recently, one of them closed)! Within my first six months in my business development role, I was able to launch a role because of my mentor's guidance.
What have you learned from your mentee?
Jay: To celebrate my successes as well. He is as much my champion as I am his. In a recent conversation, I was telling Andrew how far he's come and all the wonderful accomplishments he's had (including the big promotion this year), and he, without skipping a beat, turned it right back at me and acknowledged all of my great notable events of the year. He is excited and motivated by my successes, as I am his, and is the first person to cheer me on and tell me I'm fabulous.
Tanja Albers (mentor) – Shannon Murphy (mentee)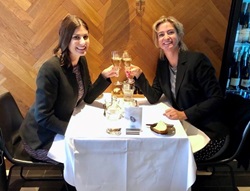 What are the benefits to working with a mentor?
Shannon: Working with Tanja has benefited me in myriad ways. As I've taken on leadership roles within the firm, she has graciously allowed me to tap into her years of experience managing recruiters and building teams. She has served as a sounding board for sticky situations, both internally and externally, and provided clear counsel without judgment. Having a mentor across the globe has been a unique opportunity for me to explore and better understand the cultural and professional norms in other countries and specifically legal markets.
What does being a mentor mean to you?
Tanja: I've been in this job for 17 years now—and I love it. During those 17 years I learned a lot and I have gone through a whole journey. By being a mentor, I can try to help others by sharing my experiences, my mistakes, talking about how I've grown, and working through the questions someone might have, in this particular case, Shannon. But being a mentor has been about more than just helping someone else; by talking to Shannon, you learn things about even yourself, too.
What inspired you to seek out a mentor?
Shannon: I sought out a mentor in the hopes of being exposed to experiences and perspectives unlike my own. I wanted a confidential resource to bounce ideas off of and who would help guide my career at the firm. I was looking for someone to connect with who would also challenge me; someone who would provide advice but also with whom I could develop a real sense of mutual affection. I was eager to learn from a female leader who I admired not just for her business acumen but also for her style, sense of integrity and outlook on life. Tanja has delivered on all fronts.
How are you hoping to help your mentee grow in their career?
Tanja: Shannon is amazing. She is so bright and eager to learn. She gets to the point, she listens well, and I believe that our monthly calls are really for both of us. She is a lot of fun too. Shannon is always interested in how we do things in Europe and the different approaches we take to things. She is a real superstar and has great potential. Whatever she achieves is—and will be—of her own doing; the sky is the limit for her and I am sure she will get there.
Please share a story of success that resulted from your work with your mentor.
Shannon: This summer I had the opportunity to visit Tanja for a few days and work with her in the Amsterdam office. We went on several clients meetings together and discussed sales strategy and the logistics of office management. However, the most meaningful component of our time together was the conversations we had while driving in the car, the dinner Tanja and her children prepared for me in their home, and the silly chit chat between client calls while sharing her office. It's in these moments and so many others over our countless calls that I saw my mentor to be a woman who is trustworthy, principled, hard-working and a true class act. She also happens to be an absolute blast to be around. Everyone loves her and you can't help but have fun in her presence.
What have you learned from your mentee?
Tanja: I learn a lot about MLA from Shannon and about how the US operates. Our relationship has gone beyond mentor-mentee. We talk about so many things now including what's happening in the world and our personal lives. I hope she feels that I'm always there as I'm sure she'll be there for me.
Deborah Ben-Canaan (mentor) – Casey Feldman (mentee)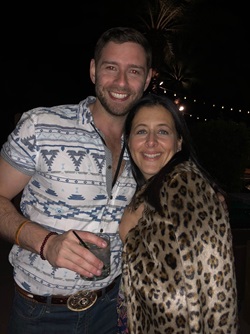 What are the benefits to working with a mentor?
Casey: A mentor has the institutional knowledge and experience to help guide you through the difficult times in your job/life. That includes with colleagues and clients alike. A mentor can be an outlet and/or sounding board for ideas, questions or complaints. Depending on your mentor/mentee relationship, it can also provide unfiltered advice and guidance.
What does being a mentor mean to you?
Deb: I love being a mentor. It is intensely gratifying to watch someone grow and blossom into the best executive search consultant they can be. Being a mentor to Casey is especially fulfilling as he has a thirst to learn, asks probative and sophisticated questions, and truly listens. He wants the feedback – and he wants to be the best he can be.
What inspired you to seek out a mentor?
Casey: As a new person in the industry, I thought it would be helpful to have a person that has similar values and drivers to help guide me forward and upward at MLA and in my career. Additionally, I wanted someone that was not my boss or contemporary that I could turn to for advice without the concern of judgment. The mentorship relationship has allowed me to learn and grow professionally and personally because I can speak freely with Deb, fully confident that it is a judgment-free and confidential space.
How are you hoping to help your mentee grow in their career?
Deb: Casey shares a similar passion for client development as I do. That is our focus – from the beginning of the process – providing excellent client service and developing strong relationships with clients that lead to mutual trust, respect and business interactions.
Please share a story of success that resulted from your work with your mentor.
Casey: The path that brought me back to MLA is a true testament to our strong mentor/mentee relationship. When I left to join a start-up, which was unrelated to recruiting entirely, Deb was very supportive of my decision, and she understood my desire to take the risk on something new and exciting. Additionally, even during my time away from MLA, Deb and I continued our monthly mentorship calls, and she helped me with issues I ran into with my new job. Toward the end of my tenure at the start-up, Deb could tell based on our conversations and my tone, that I was not happy with the culture and direction of my new role. At that point, in a non-pushy way, she started to talk to me about the potential of coming back to MLA and how she would go to bat for me to help get me an interview with the In-House Counsel Practice because of the talent and drive she sees in me. In short, I can confidently say, that the mentor/mentee relationship I have with Deb is in large part the reason I wanted to come back to MLA, and one of the reasons MLA gave me the opportunity to come back.
Deborah Thompson (mentor) – Amy Katz (mentee)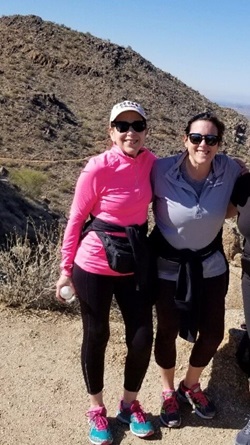 What are the benefits to working with a mentor?
Amy: I have found many benefits to working with my MLA mentor Debbie Thompson. Because Debbie is a very experienced in-house recruiter in a different market, she understands my role and is a terrific sounding board who can also share very practical and objective advice to help me grow and learn. Because we are always moving at a very fast pace, it is terrific to be able to have a regular touchpoint (in our case, our bi-weekly call), when we can discuss challenging situations and questions in a very open and safe space. Also, when we are in larger groups such as an annual meeting, it has been helpful to have a mentor facilitate introductions and offer guidance. Finally, while we develop close working relationships with colleagues in our office, given the dispersed work environment at MLA, it is wonderful to have a mentor in a different office with whom I regularly interact, learn from, and visit.
What does being a mentor mean to you?
Deb: I have been with MLA for 13 years and have developed a very rewarding and increasingly successful practice. I have learned so much from working with and being supported by many talented and wonderful people and I wanted to pay it forward by helping to mentor and develop others. I very much enjoy teaching and counseling and have found that being a mentor is a natural adjunct to my strengths and interests as a search consultant, career counselor and business development person. I have found my mentorship relationship to be highly gratifying and fulfilling and one that has enabled me to further develop and enhance my skills as I truly learn from those I mentor.
What inspired you to seek out a mentor?
Amy: When I joined MLA I was an experienced attorney, but a novice recruiter who was learning a new profession and industry. I knew I had a great deal to learn about search execution and business development, and I felt a mentor could be very helpful for my education and training. Throughout my career I have had many informal mentors (and served as a mentor) with positive success, and I was inspired to seek out a formal mentor to augment the many colleagues and mentors available to me in Boston.
How are you hoping to help your mentee grow in their career?
Deb: I am hoping to help my mentee, Amy, further grow her skills primarily in the areas of professional networking, business development, relationship building, decision-making and search execution. Amy, although still relatively new to recruiting, has already demonstrated that she is an impressive and accomplished search consultant who is driven to succeed by virtue of her hard work, intelligence and desire to constantly improve her skills. She does a great job of bringing up interesting issues that lead to great discussions. Through our conversations around challenges that arise in both our practices, I hope to help her leverage her strengths and develop in those areas that we perceive as areas for her improvement.
Please share a story of success that resulted from your work with your mentor.
Amy: Debbie helped facilitate inviting me to work on an exciting search in New York with her and Lee Udelsman involving a high-profile company and role with interesting complexity (including a number of internal candidates). During this search I had the opportunity to learn a tremendous amount from both Debbie and Lee regarding candidate interviews, client management, and internal candidates, which I have been able to apply to searches that I am now managing.
What have you learned from your mentee?
Deb: As mentioned previously, my mentorship relationship has been highly rewarding and fulfilling and our conversations have helped me to become a better listener, adviser and search consultant. It is enjoyable and reinforcing to not just advise her but to also brainstorm and discuss strategies with her and to collaboratively find successful approaches to many of the issues she raises. It is fun to learn from her as a wonderful outcome of our discussions.